10 Activities for a Toddler Birthday Party
The perfect choice for a summer birthday (with endless pretty decor options!), these beach-themed tips will help you to plan fun and easy toddler-approved activities for the party. And as an added bonus, these activities can be used for other party themes as well -- like mermaid or pirate-themed parties, pool parties, or a surfer/California-dreaming theme.
You'll find that different kids are drawn to different activities, and that some children will spend the whole party engaged with one activity, while others will dabble in them all -- there's something for everyone and that's what makes this a great set-up for a toddler party where there are many children with different interests! We had a very intimate party so were able to split these activities into two parts: before and after naptime. Hopefully you will be able to pick and choose ones that will work best for your party's structure, and your toddler's schedule!
Read on to see the 10 fun activities that will help to turn your backyard into a fun beach party for your toddler's special day ... and get your own set of the prints that we had created for the various activity stations, HERE!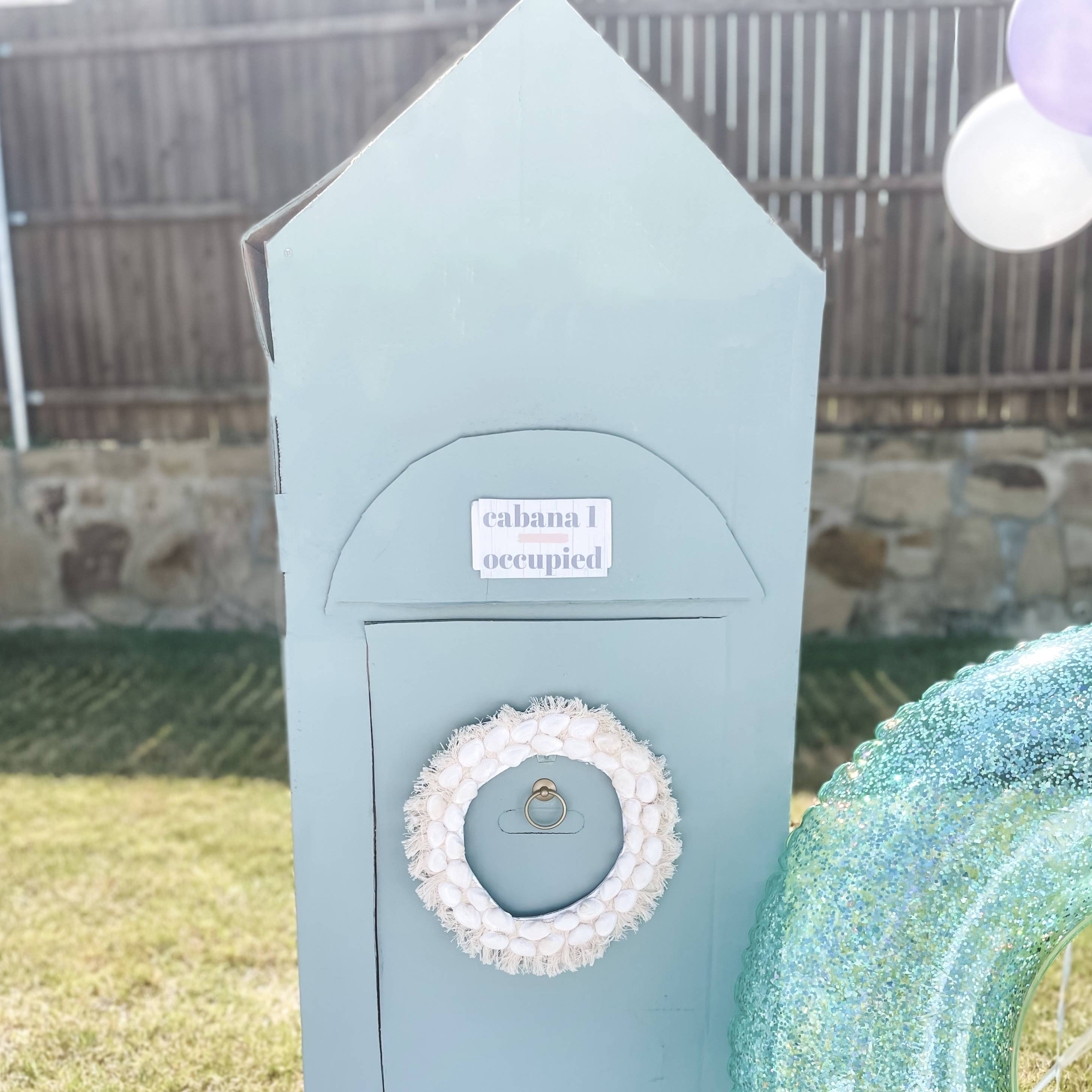 This was styled by using a large outdoor rug to delineate the area, then setting up chairs, umbrellas, and cardboard "changing cabanas" -- made from old moving boxes -- as if it was a sandy beach (there may have been a brief discussion about trying to purchase actual sand to make a huge sand pit on a tarp but that idea was scrapped after we accepted that we are exhausted toddler parents, not the Kardashians' event planners!). There was also an inflatable volleyball net & various beach balls planned for this area, but a shipping snafu meant they didn't arrive in time. Regardless, this was a great area for little ones to take a moment to sit and rest/relax, or have a snack, before moving on the next activity.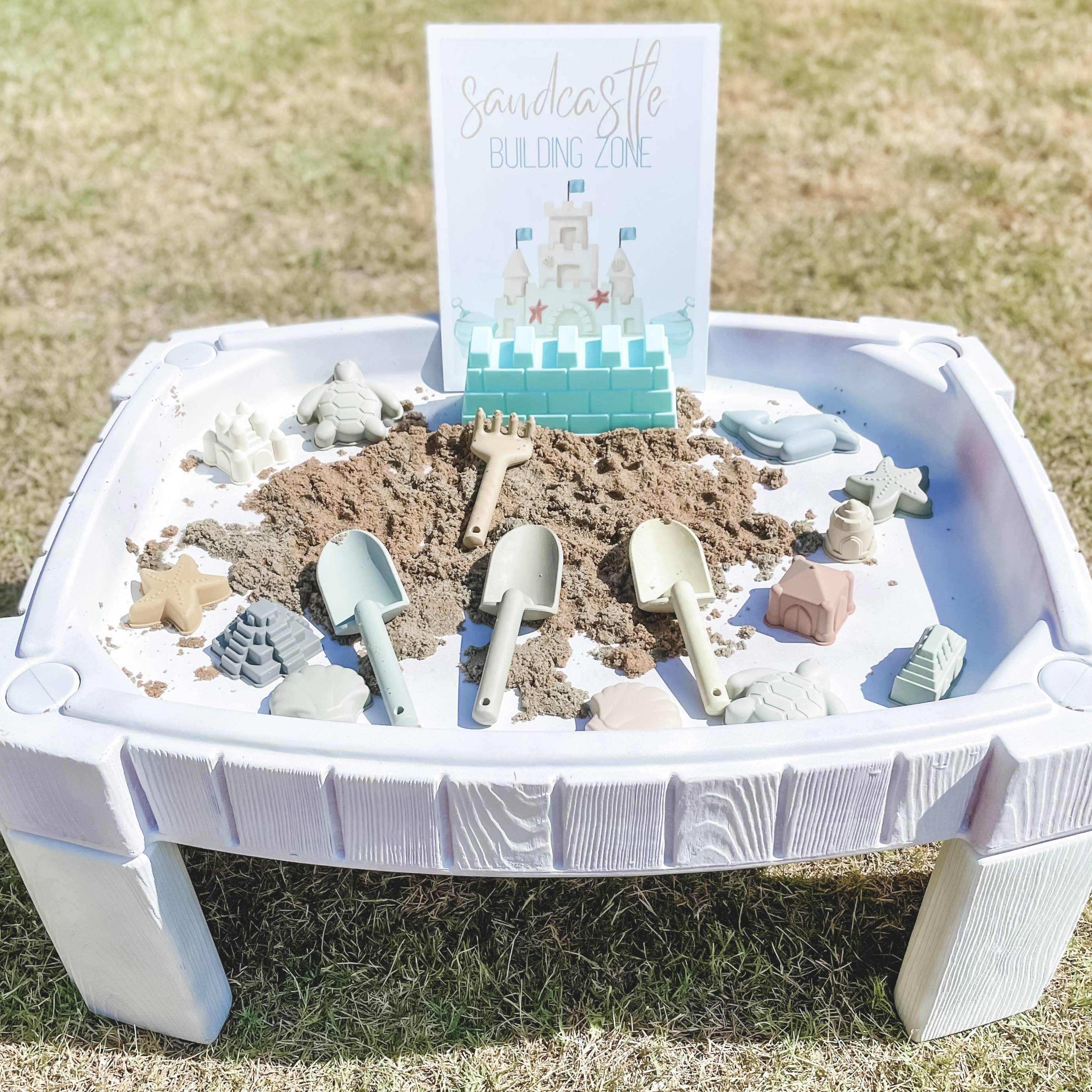 2. Sandcastle Building Zone
Simple but efficient -- use a sand table (ours is a Step2 one that we spraypainted!) or a sandbox, and throw in some sand toys and buckets. You could make this a contest if you think the kids are old enough to understand that, or you could just let them get as sandy as they please. You could also have a "dig for buried treasure" aspect to this station to make it more structured or educational. We went for kinetic sand to help with the castle-shaping, but regular sand would work as well!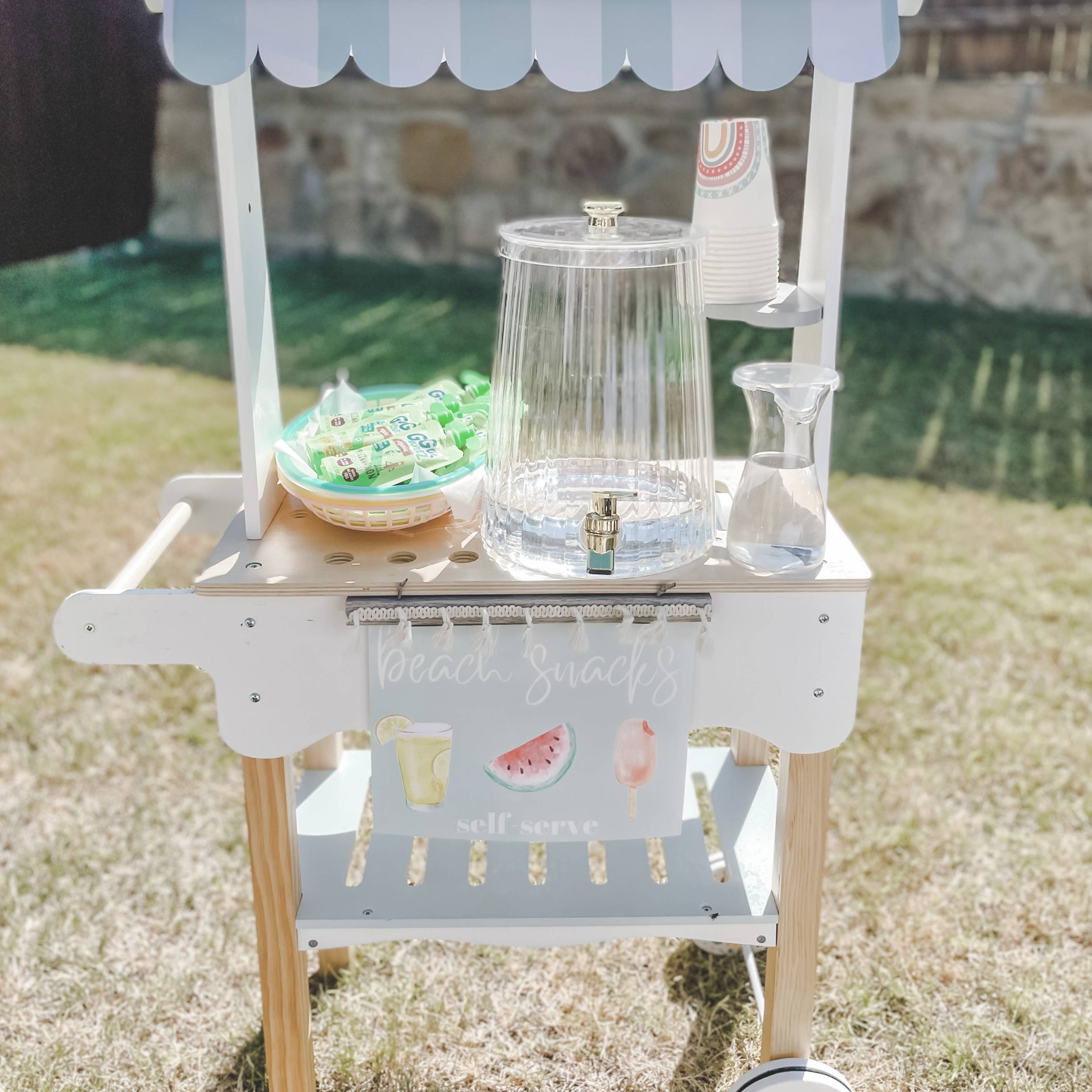 Using any cart you have, set out self-serve toddler friendly snacks and drinks (we chose GoGo pouches, a water dispenser and a carafe filled with lemonade). This doubled as a pretend-play and water-play station, with one of our kids spending the entirety of the party "serving" lemonade and water to everyone. It was her favorite part of the party, she won't stop talking about it!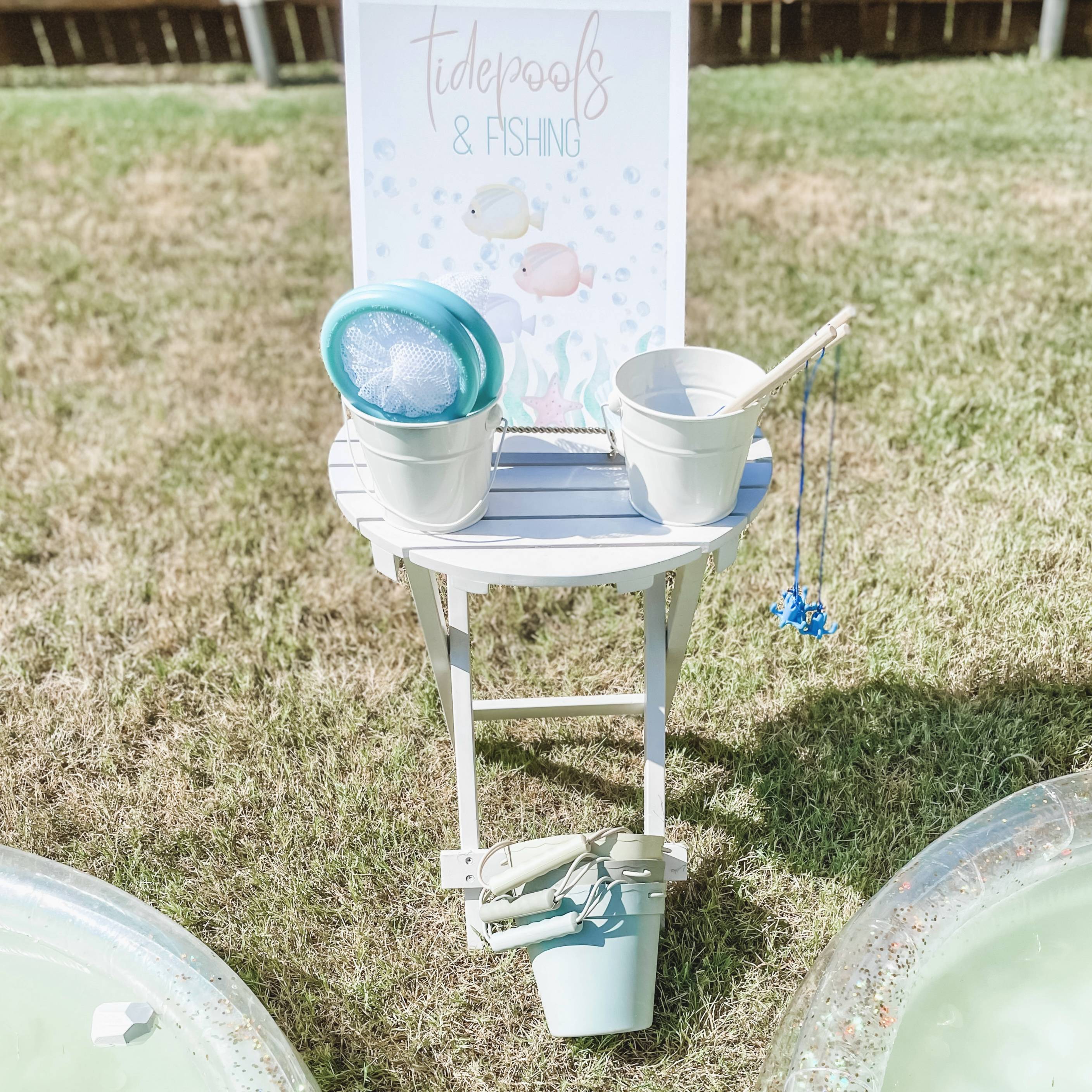 If you can't go to the beach, bring the beach to you! Based on a childhood love of exploring tidepools, we set up a sensory tidepool experience. You'll need 2-3 mini inflatable pools, sand, an assortment of plastic sea animals/seashells (the more realistic the better!), large smooth pebbles, magnetic fishing rods & magnetic fish, nets & buckets, and anything else you can think of/want to include. You could make this as educational as you'd like ... we would have loved to do a scavenger hunt type-checklist of everything that we put in the pools, but ran out of time. We also put our balancing/stepping stones around the pools, to really get that "climbing over rocky terrain" feeling you can only get at a tidepool!


5. Swimming, Surfing, Sailing Station
Simple but fun, this was just a larger inflatable pool with toy boats in it and a boogie board "surfboard" next to it to practice catching waves. You could also play "boat races" or give your child goggles and have them "swim." Overall, just a great way for them to cool off entirely after dipping their toes in the "tidepools", drying off on the "beach", or getting sandy building castles!
While the kids napped, we set up the next 5 activities. A lot of them re-used elements from earlier in the day, like this simple but high impact "photobooth": we used the kids' toy car plus the boogie board to take fun keepsake photos of them driving with their sunglasses on -- teaching them to flash the "peace" sign is optional, but we highly recommend it for the cuteness factor!
7. Pin the Tail on the Whale
We've found you can put almost any twist you like on the "Pin the Tail on the Donkey" classic party game -- so here was ours for this theme. If you download the printable below, we highly recommend printing this sign on a foam board (we got ours printed at Walgreens) for sturdiness. It can be hung on a wall or placed on an easel, like we did. We also discovered that using a sleeping mask to cover the kids' eyes is easier than tying a blindfold. And for the tail, you could find and print out clip art -- or, if you run out of time like we did, you could just use stickers that are vaguely tail shaped (we used large triangles that we had on hand).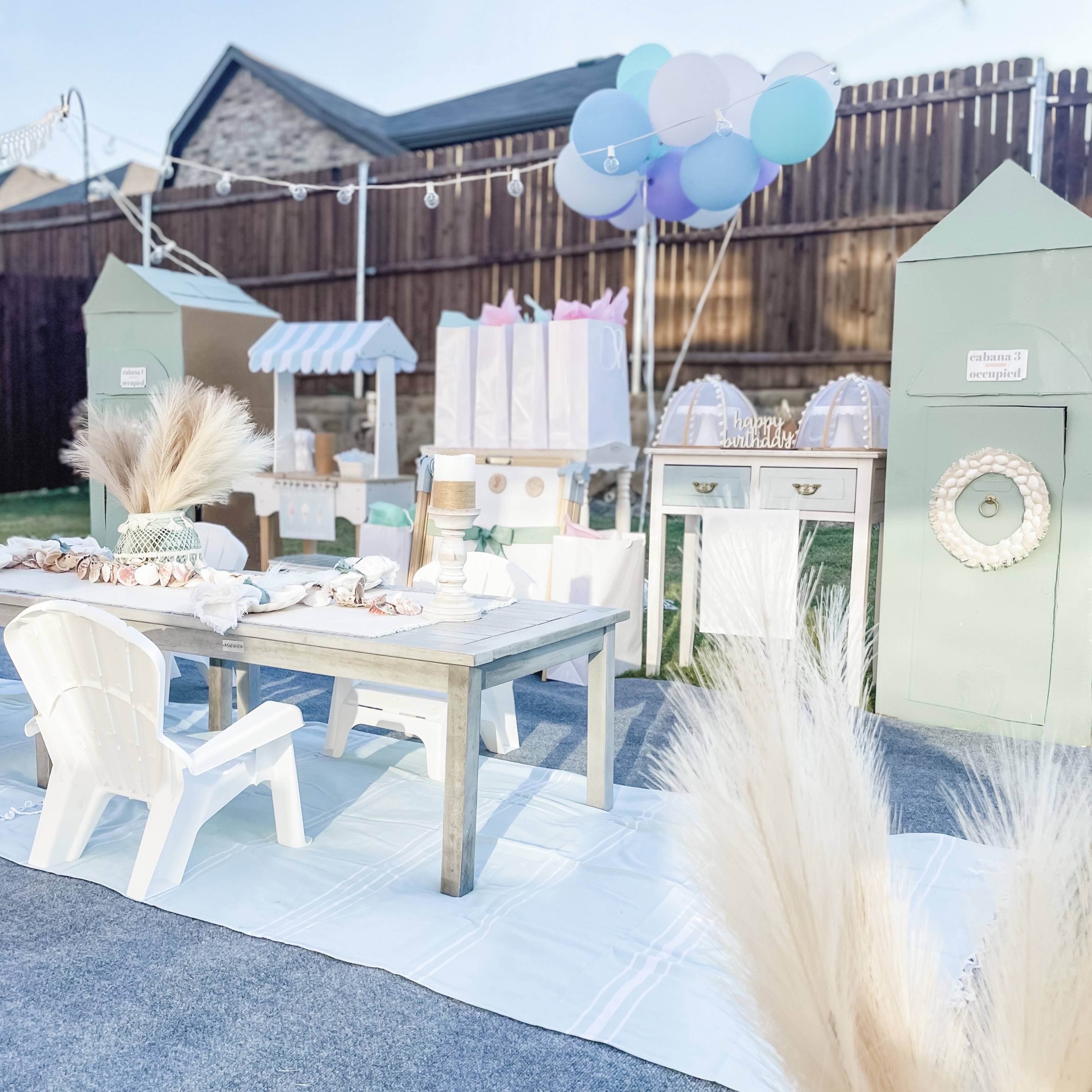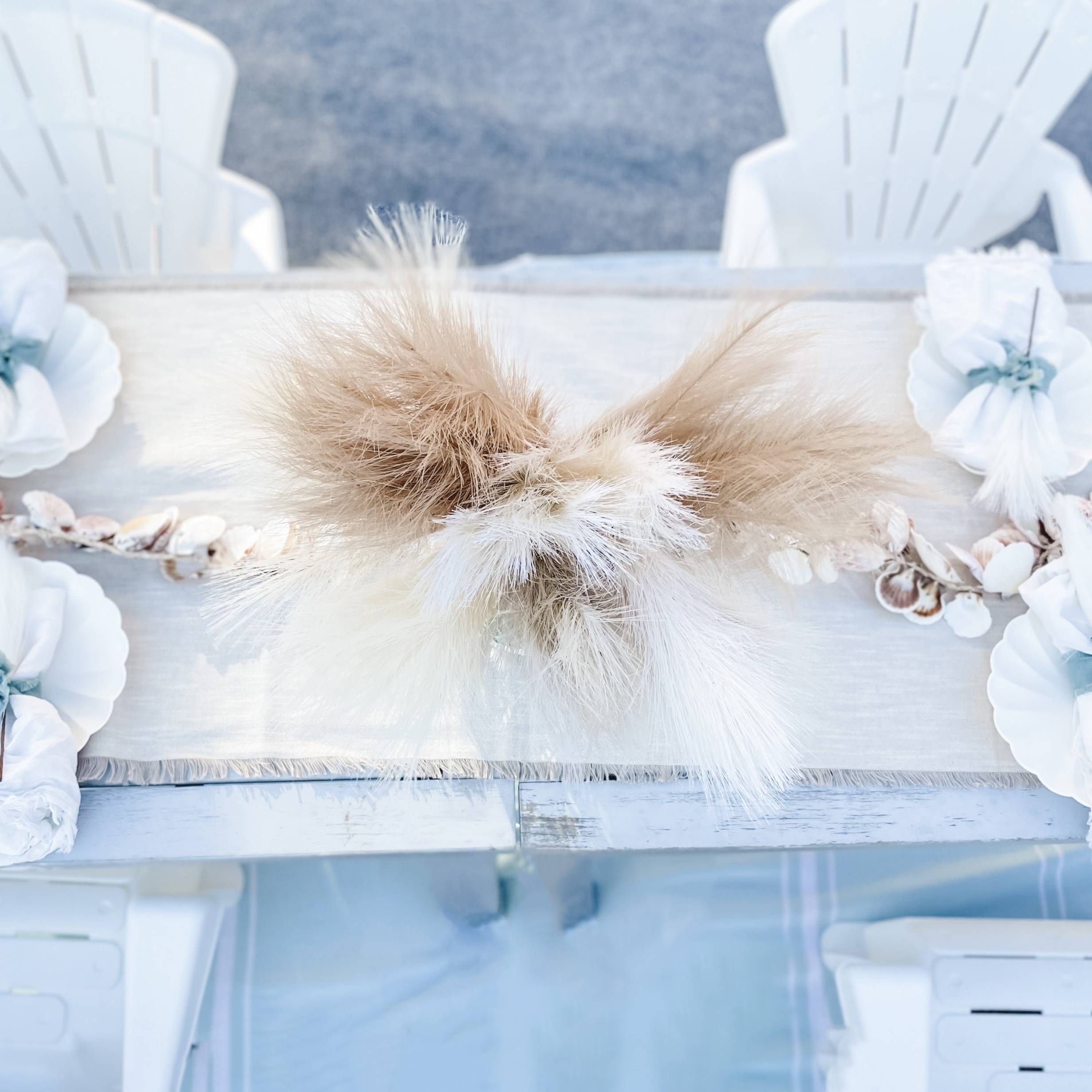 What better way to celebrate a birthday than dining al fresco? Picnics are so much fun for kids and adults alike. We chose to style ours to feel like a Southern-California inspired boho beach picnic -- so pampas and macrame were staples of the decor -- but you can really make it as themed or as subtle as you would like. The food could also be beach themed, of course, and while we didn't take it quite that far this year, we are huge fans of that concept, too!
9. Ice Cream, Cake & Presents - Oh My!
Is it even a birthday without ice cream AND cake?! We repurposed the snack cart into an ice cream cart, and it was another big hit ... these kids just love to pretend play and "serve". We didn't go quite as far as having them serve the ice cream for real, but maybe next year. Since we have twins we always get two cakes (but some twin parents apparently only do one cake) & this was the first year they had cake photos not in a high chair -- cue the tears (for us, not them)!
We finished the night paying tribute to the only ocean-themed song you need as a Gen. Alpha toddler ... Baby Shark! We've tried to do this at a few events prior and they never quite got it, so this is likely for older toddlers ... this time they realized their voice was coming through on the microphone, and definitely thought it was funny. It was a great way to end the night, as much for us as for them!
Final note: we left most of the picnic all set up when we were done, so once we got the kids off to bed we were able to take a bit of time outside with the bistro lights on ... just us, the baby monitor, and a few glasses of wine. It was a nice way to end a busy day of celebrating with our littles -- decompressing, reconnecting, talking about the fun day, looking at photos of the kids enjoying all the activities, and feeling so lucky that they made us parents three whole years ago! Click below to get your printables for a beach party with activities like these, & be sure to tag us on Instagram if you use any of them, we would love to see how you style a beach-themed toddler birthday party!